At Tactical Systems Product Testing Services, we provide comprehensive services in a professional atmosphere where your time to market is our priority. Tactical Systems offers product safety testing, environmental stress testing, product certification, reliability testing, electromagnetic compatibility and electromagnetic immunity testing and performance testing,
Environmental Stress & Reliability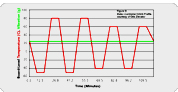 Tactical Systems Product Testing Services provides a wide variety of environmental stress testing services to assess component, product, and system level reliability for products. Our environmental services team includes experts in reliability engineering who provide consultation on test plan development and methodology. And, we can subject your electronic device to the environmental conditions outlined in MIL-STD 810 and the IEC 60068 family of standards.
Electromagnetic Interference & Compatibility Testing
In conjunction with our partners, Tactical Systems Testing Services offers a 3-meter and 10-meter open area test site (OATS), a 3-meter, fully compliant, semi-anechoic chamber and full immunity test capabilities. Primary voltages range from 100 to 270 V with frequency control from 45 to 500 Hz. DC Voltages range from 0 to 100 V up to 300 A. In addition, Tactical Systems can guide you through the process and create solutions to ensure compliance.