THE CLIENT
This client is a leader in the design and development
of integrated systems and solutions for advanced
missions. These include electronic warfare, airborne processors,
missile defense and intelligence,
surveillance and reconnaissance systems.
THE CHALLENGE
The Mission Computer (MC) is the nerve center of the avionics system, controls
all the sensors placed in the avionics network and performs the navigation and weapon guidance.
The challenge was to 'open' the architecture of the Mission Computer
that enables plug-in growth as future mission
capabilities are added and still continue to be multi-level secure.
Since the Mission Computer has applicability beyond the immediate need, it was decided to go beyond the initial brief of an "Open Architecture System" to a truly flexible system that can adapt itself in multiple scenarios. 
Advanced Architecture
Increased system performance, combined with reduced power consumption and board count becomes highly relevant in critical systems such as mission computers. The chosen architecture based on the new VPX standard offers significant benefits under these conditions. VPX provides an open architecture standard that can support current and future generations of high-performance processors, interconnect technologies and high-speed I/O signaling. The key attributes are the greater bandwidth that it provided at the module level, compared to VME, and the hardware/software abstractions that are afforded by its native support for serial switched fabric architectures, such as PCI Express (PCIe) and Serial RapidIO.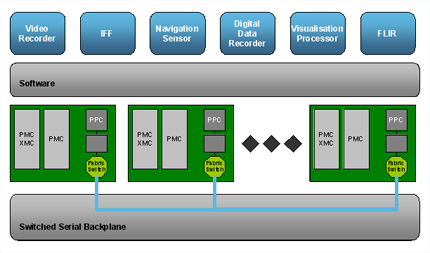 The Base Board with the dual core PowerPC processor supports two XMC/PMC Slots.
The switched fabric architecture of VPX architecture also enables software designers to make systems more easily scalable. In the commercial component-based system, with all the FPGAs and processors connected to the switched fabric, the communications layer could abstract the physical fabric and memory addressing so that software could treat the system as a collection of processes, named memory buffers and message receivers.
Enhanced Packaging
Mission computers need to interconnect to a large number of onboard systems including platform data sensors (airspeed, altitude, system status), navigation subsystems, IFF unit, radar, missile warning sensor, EW sensor, EO/IR sensor video, networked data links, pilot man-machine-interface inputs, cockpit displays, mass storage interfaces, and several others. In fact, the mission computer is required to interconnect to as many as 20 to 30 different subsystems with interconnect specifications changing depending on the aircraft. To ensure extreme flexibility, the Interconnect Panel was conceived as a cable-less, connectorised module which could be changed based on aircraft requirements.
The electronics is packaged into a conduction cooled 3/4 ATR chassis
In a typical VPX module based on IEEE 1101 methodology, the mass load of the card is actually borne by the PWB edge interfacing into the card cage. Transmitting these forces to the PWB and its mounted components can result in unforeseen stresses fracturing these assemblies, causing premature failure. To avoid such a scenario, an external structure and nesting the PWB inside, an exoskeleton for stiffening the assembly was created. This structure also works as the heat bridge with components making direct contact thus creating a low resistance path for the heat to flow into rails of the card cage.
A greater maximum PWB thickness was also allowed, compared to IEEE 1101 practice that allows only for a 1.6mm maximum PWB thickness. This is very relevant to contemporary high-speed, high-density designs that require layer counts ranging upwards of 15 to 24 layers and a stack-up of a variety of materials to meet routing, signaling speed, impedance, capacitance, power distribution, and reliability requirements.
SUMMARY
Increasingly demanding applications, coupled with new technologies such as serial switched fabrics, mean that the new architecture has leveraged many of the familiar characteristics of the VME architecture and has brought new levels of performance. It brings substantial improvements in price/performance, especially for applications where size and weight are constrained.